Ikimashou!
A downloadable game for Windows, macOS, and Linux

This game is currently under development! Rest assured, we're working very hard on it!

Introduction
Ikimashou!/Let's Go! is a visual novel set in the wonderful land of Canada, more specifically in the cities of Montréal, Toronto, & Vancouver! Set off on the ultimate journey across the North, and make lots of friends along the way! It'll be a blast!
You play as a determined & hardworking person residing in Montreal, Quebec, Canada, who moved here around 1 year ago. Life is good, adventures are plenty, friends are few but close, and your job is great! Things keep getting in your way, though. School, parents, curfews (*cough cough*), who knows?! Longing for a happy and independent life, you head out to explore the rest of Canada and what it has to offer. Maybe make a couple friends along the way?

Features
Explore the cities of Montréal, Toronto, & Vancouver!
Full 1920x1080 HD resolution!
Beautiful backgrounds made from actual, real-life photographs! Maybe you'd even be able to tell where it is? Did I mention that there's over 100 of em'?

A sugar-sweet story about the power of friendship!
Mainly kinetic novel, with minor branches at times.
Partial Japanese voice acting!
Super-duper adorable kemomimi characters!
Japanese translations (Currently on hold until the game is finished)
Montreal's Characters
🚧 under construction - not all characters are finished yet🚧

Zinnia Jackson ・ ジニア ジャクソン | Protagonist | CV: 夢前 黎
Height: 160 cm
Birthday: ???
Blood Type: O-
Occupation: Various
Hometown: Anywhere!
"With eyes as blue as the sky and hair as white as the clouds, she dreams of travelling across the world with the sky above her face! Brimming with enormous amounts of ambition, self-esteem and confidence, she'll do everything in her power to make her dream a reality. Very opportunistic and won't hesitate to jump on the bandwagon."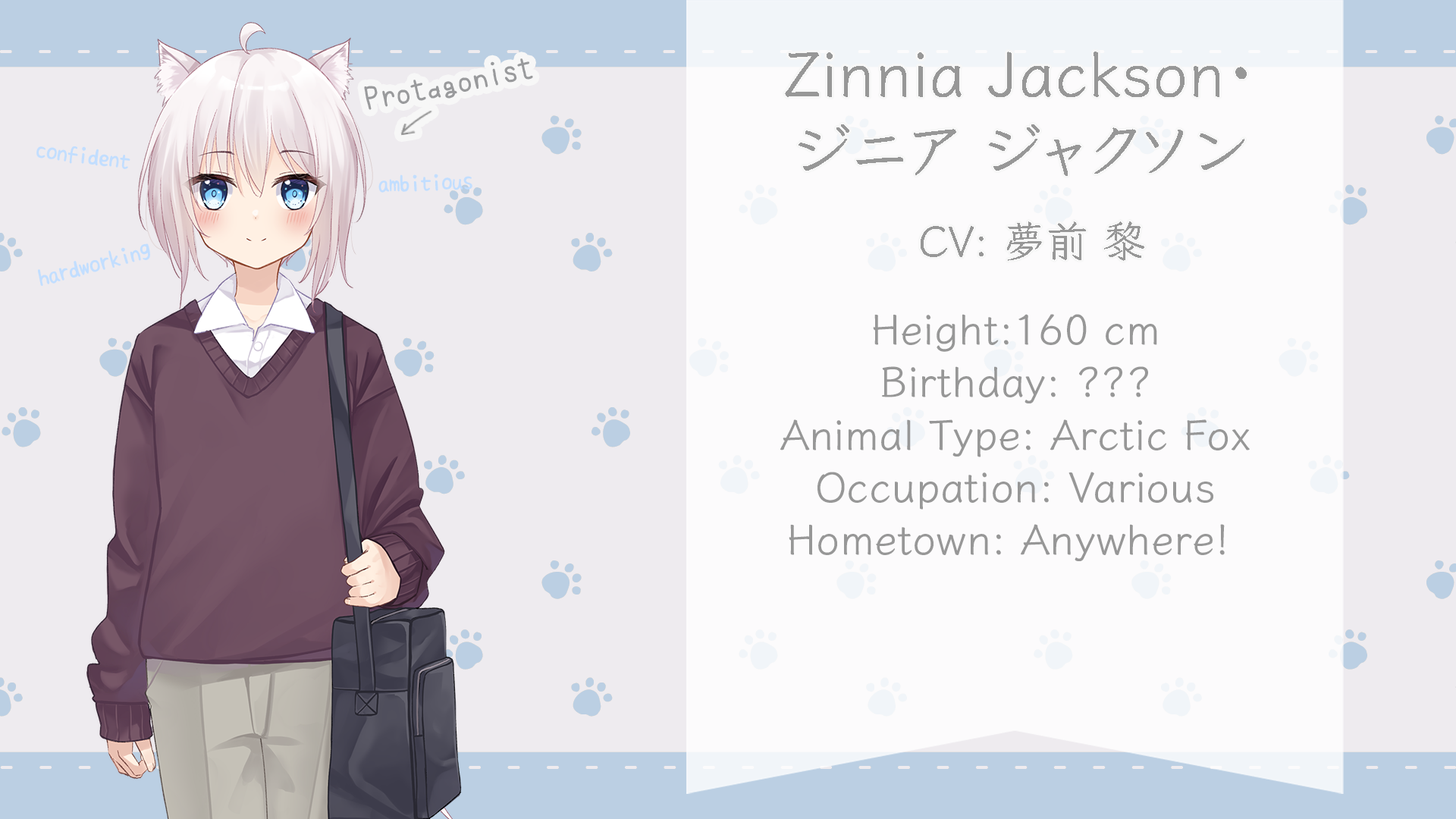 Minori ・ みのり | Main Character
Height: 158 cm
Birthday: 4/12
Blood Type: O+
Occupation: Student
Hometown: ???
"Your typical teacher's pet. Invests heavily in her studies while still maintaining a good relationship between her friends.. She and Zinnia have been together since Zinnia's first day at their school."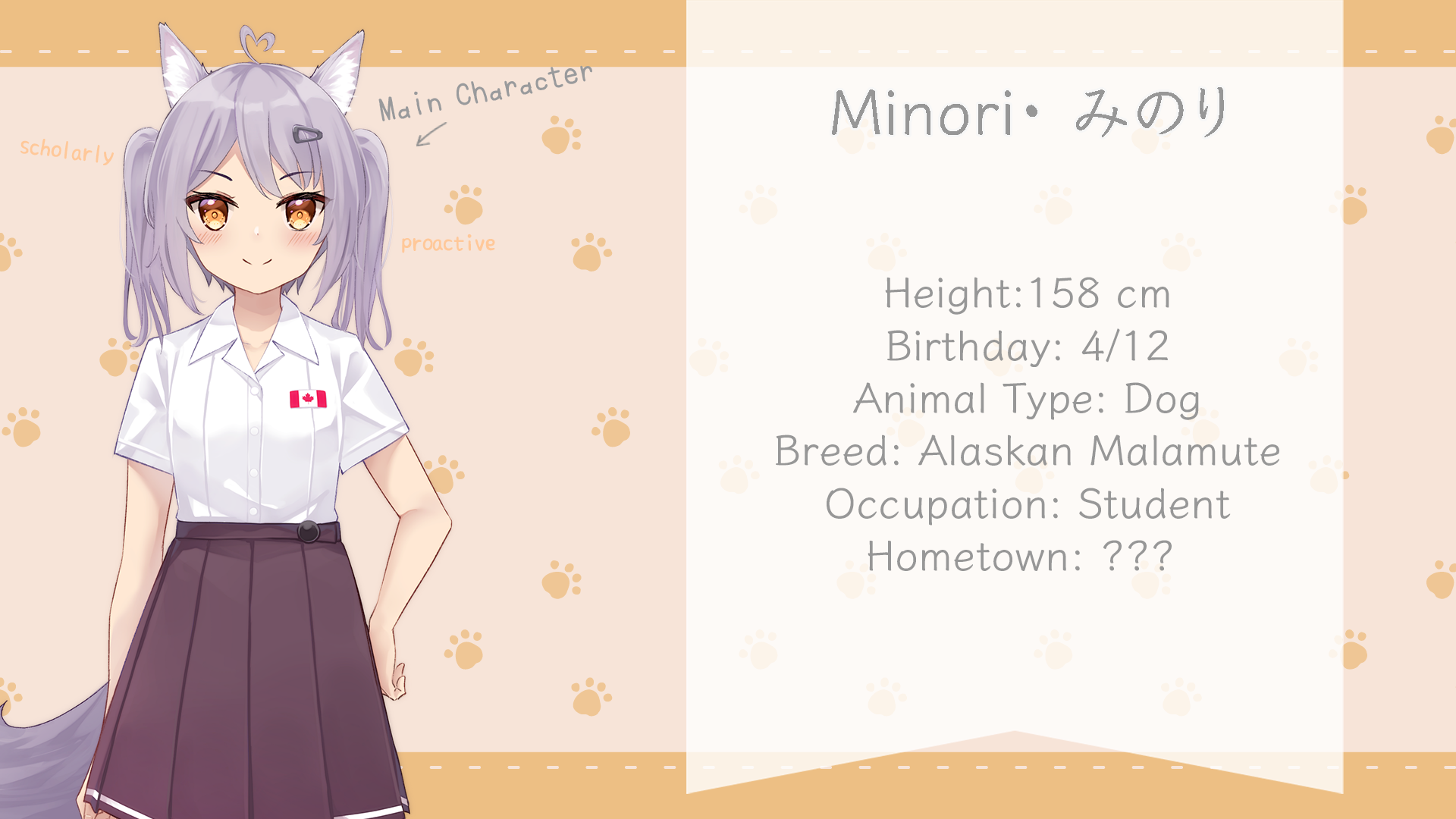 Vincent MacKenzie ・ ヴィンセント マッケンジー | Main Character
Height: 160 cm
Birthday: 6/30
Blood Type: B+
Occupation: Student & Athlete
Hometown: Pembroke, Ontario, Canada
"A top performer in the school Track & Field Team, Vincent is enthusiastic about sports both in & out of school.
Despite his competitiveness, he has a good sense of sportsmanship and is often the one to take the lead when nobody else is willing to. Zinnia knows his full name, as it is listed on their school's Track & Field website."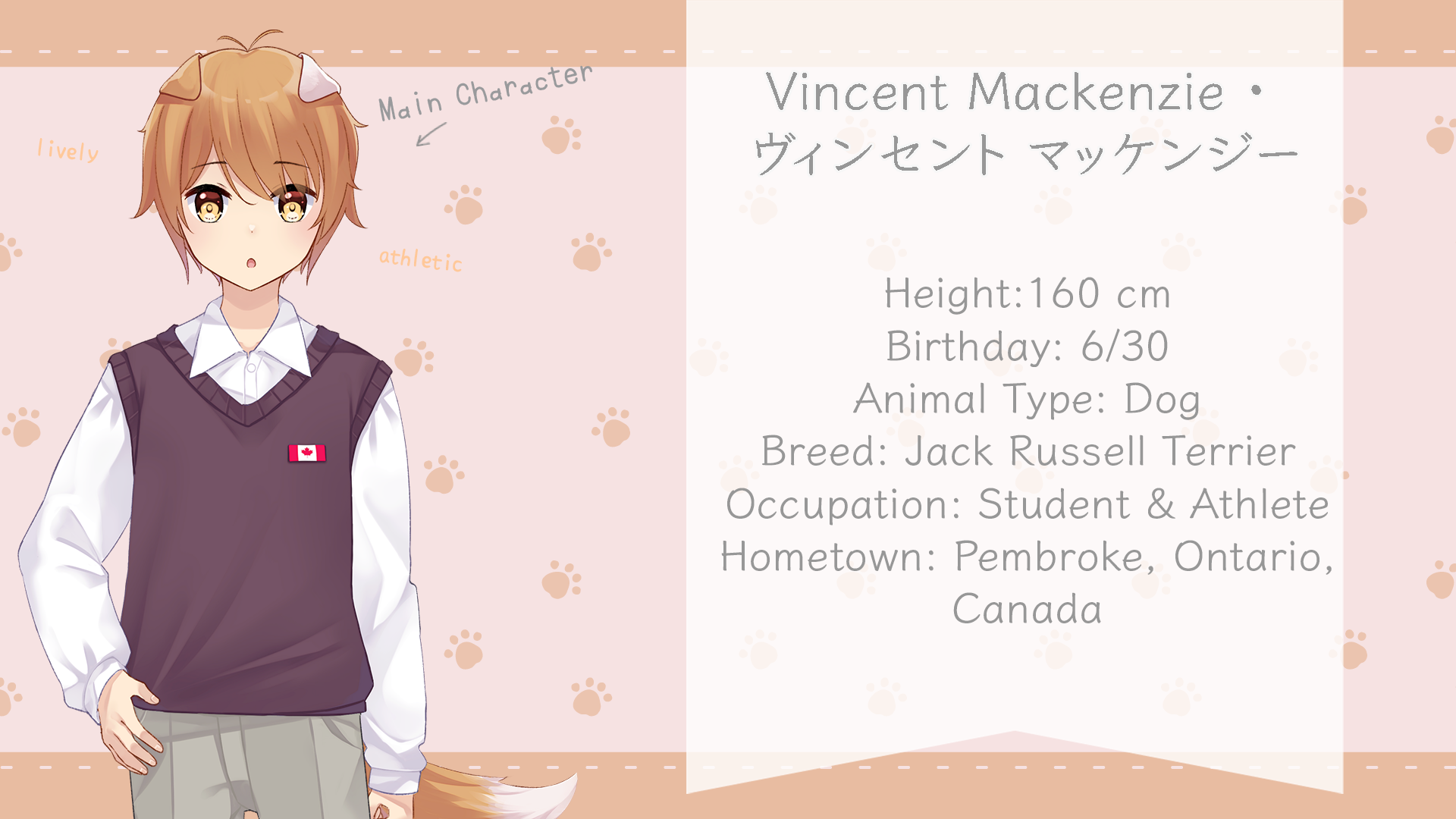 Taya ・ タヤ | Side Character
Height: 150 cm
Birthday: 11/16
Blood Type: O-
Occupation: Student
Hometown: Moncton, New Brunswick, Canada
"A first-year at Zinnia's school, Taya thinks she hasn't fit in with the new crowd yet. She's woefully underprepared for the tornado that is known as junior high, and still cherishes her time back in her old school."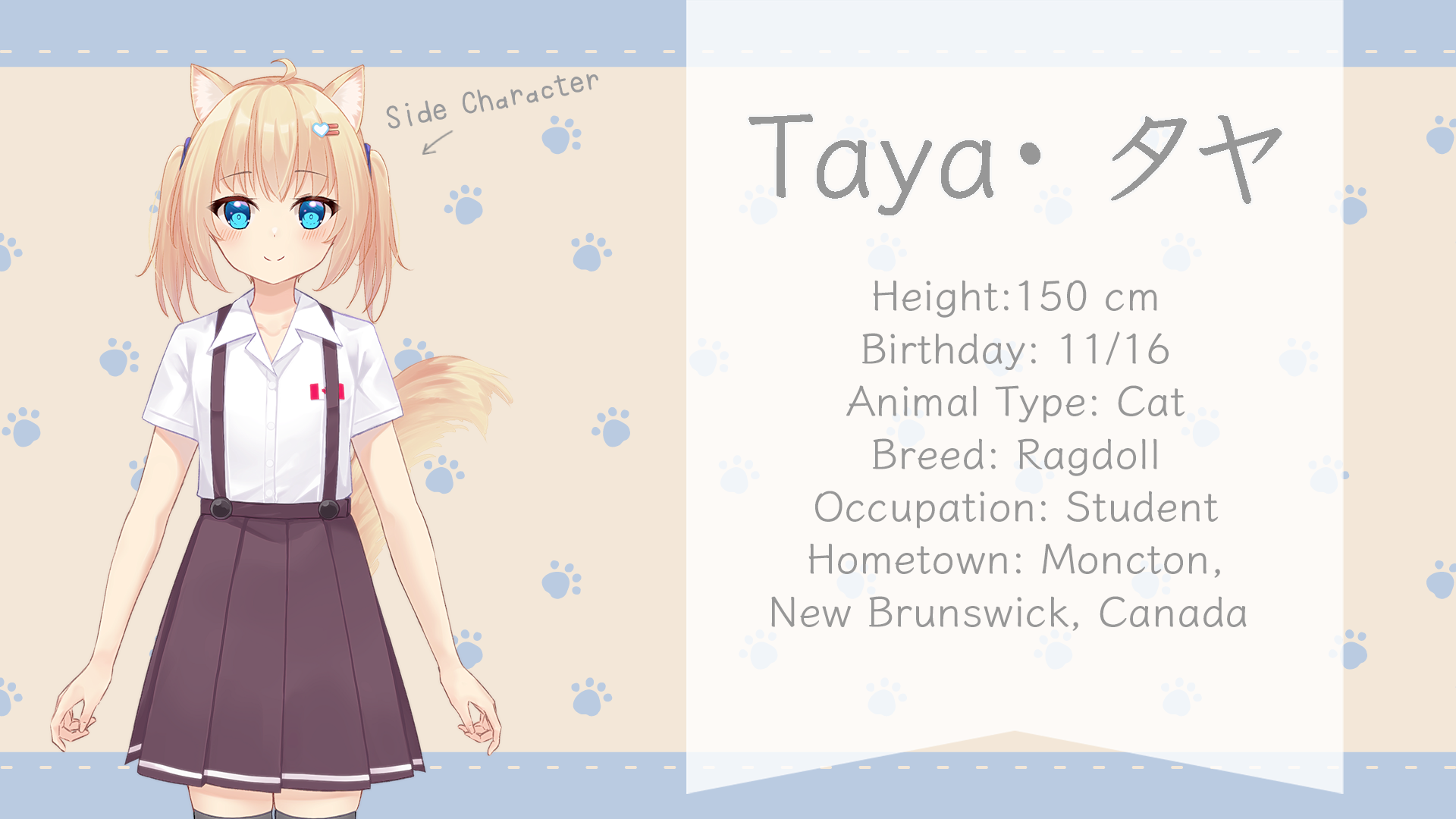 Toronto's Characters
Zinnia Jackson ・ ジニア ジャクソン | Protagonist | CV: 夢前 黎
"After her arrival in Toronto, Zinnia's dream of a fulfilling and independent life is finally becoming a reality. Good things come at a cost, as she left all her friends back in Montreal. Determined to make new ones here, she seeks out every opportunity there is to forge new friendships in her journey."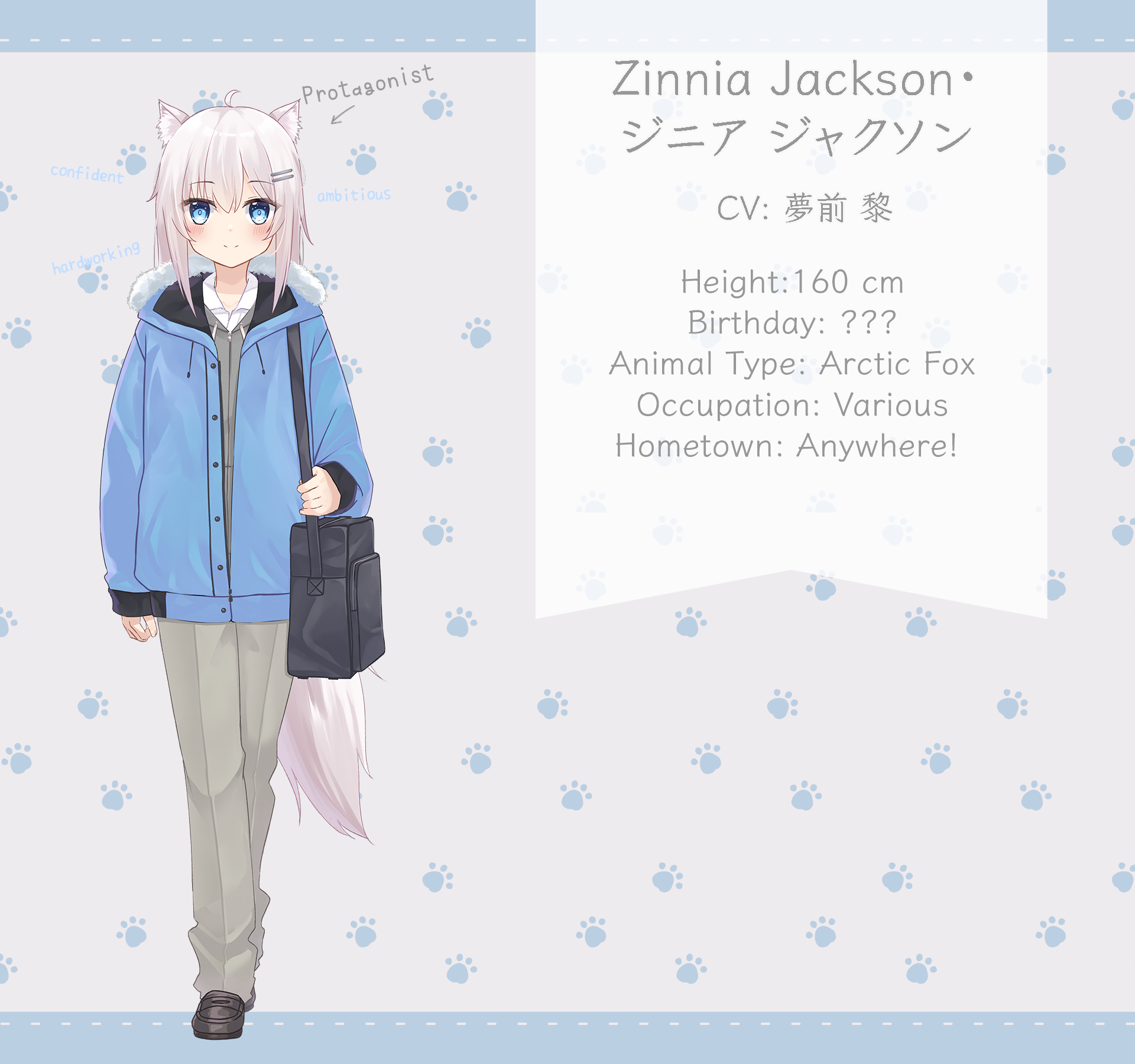 Charles 'Charlie' Beauchamp・ チャールズ ボーシャンプ | Main Character | CV: 青山 龍星
Height: 173 cm
Birthday: 12/9
Blood Type: A+
Occupation: Bus Driver
Hometown: Chicago, Illinois, United States
"A refined and observant man. Charles has been behind the wheel ever since graduating from high school. He is well-spoken, never holds a grudge, and cares deeply for his friends and family. Although he has an impressive investment portfolio and plenty of savings, he still chooses to work as a bus operator to supplement his income so that he may retire early. Really early. That's so he may spend more time with his extended family, which he hasn't done often. Perhaps that includes friends, as well?!"
Chiyomi Hinazuki ・ 雛月 千代美 | Main Character
Height: 162 cm
Birthday: 2/23
Blood Type: AB-
Occupation: Bus Driver
Hometown: Kariya, Aichi, Japan
"A cat that drives the bus. Chiyomi is a new hire as a regional transit bus operator, and she's determined to get you where you want to go! Caring, charismatic, and empathetic at times, she works to support her family back in Japan, consisting of her parents, grandparents, and cousin. Her brother went missing a long time ago."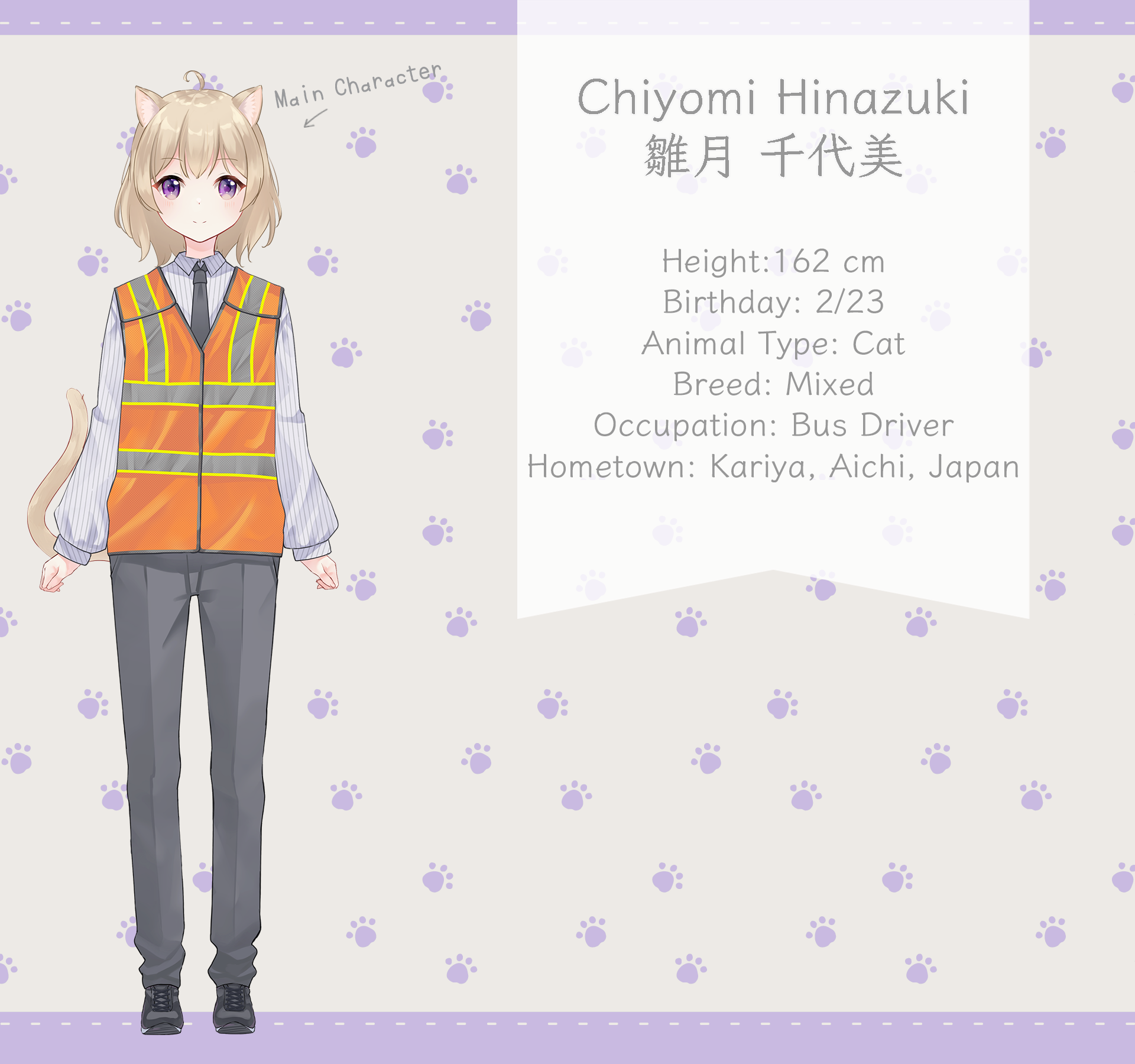 Claire Hashimoto ・ 橋本 クレール | Main Character
Height: 165 cm
Birthday: 7/1
Blood Type: AB+
Occupation: Communications Centre Agent
Hometown: Vancouver, British Columbia, Canada
"A cheerful and surprisingly patient girl, Claire loves to help others with public transit! She is employed as a communications centre agent, and also handles the marketing for the company she works for. She moved to Ontario from British Columbia to search for better employment opportunities, although she wishes to return to Vancouver someday with experience from her job to use in other career paths."

Amaya ・ あま屋 | Side Character
Height: 160 cm
Birthday: 3/16
Blood Type: O-
Occupation: Cafe Worker & University Student
Hometown: Châteauguay, Quebec, Canada
"Currently in an domestic exchange school program. Normally attends a university in Longueuil, but has transferred to a Toronto-based institution for the fall term. Juggling her time between studies at her university, aiming for a degree in Arts & Design, and working at a Café nearby."
System Requirements
Windows:
OS: Windows 7 32-bit
Processor: Intel Core i5 2.3Ghz Dual-core CPU
RAM: 4 GB
GPU: Nvidia GeForce GT 220M or integrated graphics with a minimum of 512 MB vRAM
Storage: 2 GB available storage.
OpenGL 3 or DirectX 9.0c is required.

Install Instructions
If you are using Windows:
Extract the downloaded .zip file, then open Ikimashou.exe in the extracted folder to start! Generally, you should use the 64-bit version, unless if your PC is slow or running a 32-bit OS.
If you are using MacOS:
Open the Ikimashou app. The app is not notarized, so you may need to turn off any security measures in order to run it. Rest assured, there are no viruses!
Credits
| | |
| --- | --- |
| Updated | 5 days ago |
| Status | In development |
| Platforms | Windows, macOS, Linux |
| Publisher | |
| Rating | |
| Author | umineko |
| Genre | Visual Novel, Adventure |
| Made with | Clip Studio Paint, Adobe Photoshop, Adobe After Effects, Ren'Py |
| Tags | Anime, canada, Cute, Ren'Py, Singleplayer, Slice Of Life, Story Rich, Voice Acting |
| Average session | About a half-hour |
| Languages | English, Japanese |
| Inputs | Keyboard, Mouse, Gamepad (any) |
| Accessibility | Subtitles |
| Links | Dev Website, Forum, Kickstarter, Patreon |
Download
Click download now to get access to the following files:
Ikimashou-6.13-linux.tar.bz2
746 MB